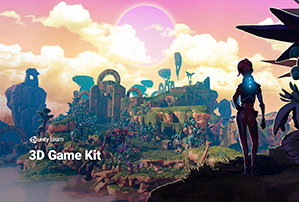 Ellen goes 3D! The 3D Game Kit is a huge and complicated kit, but it is a really fun kit to work with. It is a great project as a follow up to the 2D game kit. Working in 3-dimensions makes things much more difficult and any experience with 3D software (like Blender) will help. You can spend a lot of time creating a game with this kit. Below is a breakdown of some projects that you can follow with this kit. 
Project #1 
Get started with the 3D Game Kit and make a small level. Follow the Quick Start tutorial to get going. See the 3D Game Kit Project #1 page for details. 
Project #2
Dive deeper into the 3D Game Kit to begin customizing and expanding your level. Follow the 3D Game Kit Walkthrough tutorial to add to your level. See the 3D Game Kit Project #2 page for details.